Our cow herd today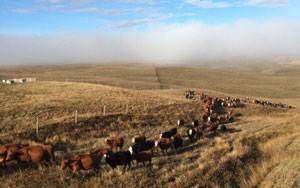 Leeuwenburgh Angus is located south of Lethbridge, Alberta. This is where we calve out our cows in January and February and develop our bulls and breeding stock. On a normal year we raise all of our own hay and silage for the year. Our cow/calf pairs usually go to pasture on the Milk River Ridge south of Raymond, Alberta the first week of June and stay on pasture until mid December. Purebred bull calves are weaned the first week of September and our purebred and commercial heifer calves are rounded up in mid October, with the commercial calves being sold or back grounded depending on the year.
We pregnancy test all of our cows a week later. Our cows are wintered on hay with the essential vitamins and minerals.
The purebred cows are pastured separately from the commercial cattle as they calve, but are fed the same hay until the last week of March. They are then placed on high roughage TMR for breeding in April and May.
In the first week of September the bull calves come home off of pasture and are fed a high roughage ration focused on long term development, with 30% of their ration consisting of chopped grass hay along with corn silage. Our feed ration does not change from September to March, no matter the weather or other circumstances.
In mid March we sell approximately 60 bulls, at our annual bull sale, with the majority selling to commercial cattlemen. We sell to 80% repeat customers, every year, which we think speaks to the quality of the cattle we supply the commercial cowman. The commercial cow is the heartbeat of the entire beef industry.

Our breeding program
Every year we breed around 700 cows and 125 heifers. All the heifers both purebred and commercial are AI'd in 42 days, no exceptions to maintain fertility in the herd. All purebred cows both red an black are AI'd for 55 days , with no cleanup bulls.
Since we started the short breeding program twelve years ago we have instilled exceptional fertility in the herd. It came with expected pains in the first years as many cows and entire bloodlines were culled rapidly.
We are one of the few joint purebred and commercial cattle operations that has such a compact breeding program, but we have seen the major benefits of this with our own replacements and those of our customers. Through extensive AI we have been able to consistently pay attention to maternal traits, function and performance.
We as cattlemen, all get paid by the pound and with that in mind, the higher performance our purebreds can attain, the better for our customers' commercial herds and our own herd. No stone goes unturned in our sire selection process, in order to improve the genetics of our cattle.
Our commercial herd
Our commercial cowherd is very important to us in both sampling seed stock from our purebreds and evaluating bloodlines in an every day ranch setting. About 600+ cows consist of black and red baldies and brockles and Simmental cross cows. Over the years the Angus cross cow has undoubtedly become the most profitable cow on the planet and the most economic for the rancher who gets paid by the pound.
We purchase Hereford bulls from Lutz Herefords, XTC Herefords, Pahl Herefords, Ulrich Herefords and Anderson Herefords. The Simmental bulls we use have been home raised with the first cows purchased from the renowned Mader Ranch.
Once the red or black Angus cow is cross bred the resulting replacement heifers are bred back to Angus, to ensure maternal traits and phenotype. In most cases we use the same bloodlines on our commercial herd as we do in our purebreds so we can look you in the eye and tell you if a certain pedigree works and is profitable or not.
We've said it before and we believe it whole heartedly - the commercial cow is the heartbeat of the beef industry and we are solely focused on improving it one breeding at a time.